Dragon boat racing is an exciting team-building activity!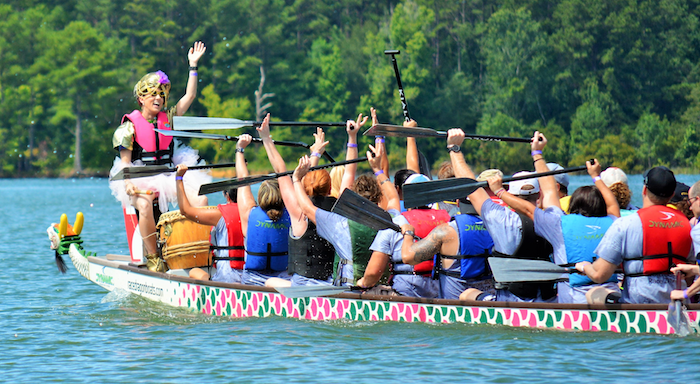 Teams feel a connection to the racing. They bond to each other. They feel connected to the experience. Dragon boat participants are passionate about this sport. People love it —the thrill, the teamwork, the adrenaline, the interaction in the boat. People are drawn to this sport, to each other in a setting that exemplifies human connectivity on a level comparable to nothing else. People who never thought of themselves as athletes can thrive in a dragon boat. People who are athletes discover a challenging alternative to other sports.
Form a Team
One of the most enjoyable ways to be involved in the 2017 West Point Lake Dragon Boat Race is to be on a team!
Here's what you need:
Please select 16-20 paddlers. A minimum of 6 female paddlers is required. A total of 20 paddlers is preferred, but teams may qualify with a minimum of 16 paddlers. The minimum age is 15 years old (with parental consent.)
Please select a team race captain.
Please select a drummer and/or tailgating/spririt captain. Drummers who participate in the race must not exceed 150 pounds in order to assure the safety as per the professional steerers.
Please select a creative team name (such as REO Speed Dragon.)
Registration
To register, click the "Registration" button in the above menu. You may register using the online form or download a paper form and send to the provided address.
The entry fee is $1000 and is due May 1.