Boom! Boom! Boom! and the drummer at the helm of the boat beats the drum to set the pace as up to 20 paddlers heave in time with each beat slicing their paddles into the water, propelling the 46-foot-long dragon boat towards the finish line. The atmosphere is electric. The competition is heated. The boom of the drum, the glistening lake, the yell of the steerer's commands to the team, the cheering of the crowd, and the colorful dragon boats in fierce pursuit of the finish line are sure to provide excitement like no other event. Plus, it's all for a great cause! This is NOT your average fund raiser.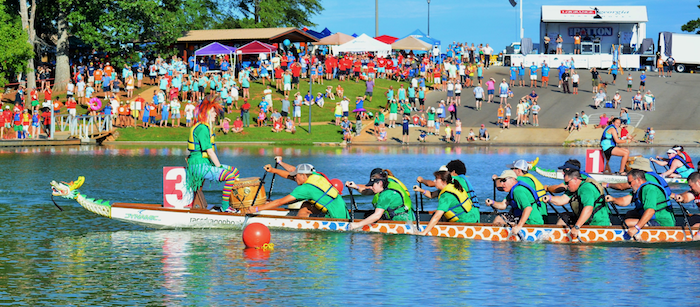 When Is This Event?
Next year's race will be Saturday, July 14, 2018
Where Is This Event?
Pyne Road Park in LaGrange, GA
For Directions look under the menu for "Location"
When Does the Fun Begin?
The West Point Lake Dragon Boat Race begins at 8:30 AM.
The tentative schedule is:
6:45 am - Team registration and tailgate area set-up begins
8:15 am - Opening Ceremony (All paddlers must be present.)
8:30 am - Race Begins
Morning Heats
Lunch Break (Time TBD)
Afternoon Heats
Closing Ceremony (Anticipated in early afternoon)
How do I take part?
Follow the above link called "Teams" to learn how to enter a team. Or if interested in volunteering, follow the above link called "Volunteers."
Why Are We Doing This?
The West Point Lake Dragon Boat Race benefits Harmony House Domestic Violence Shelter. Harmony House provides emergency shelter, security, crisis-intervention, education and advocacy for adults and children who are victims of domestic viloence.